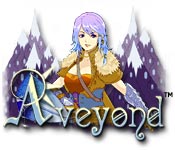 One of the things I like to do is find the games out there that are a diamond in the rough. They may not have the latest and greatest graphics, but the fun factor is the most important to me. I found this in Aveyond.
Aveyond is an RPG that is very much in the style of an old school SNES game like the Final Fantasy or Chrono Trigger games. If you enjoy these types of turn based games, then this one's a game you should check out. I had a nostalgic feeling as I started playing Aeyond. At first it felt like an SNES Zelda with the top down view and slowly building story elements. Once the turn based battles started, it felt like I found a classic Final Fantasy I never played.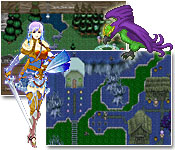 I think sometimes I go into checking out these games with the preconceived notion that because of the low price, I'm not going to get the full experience that I want. I'm finding as I explore some of these alternate non-mainstream games that there are a surprising number of great diamonds to be discovered: FATE
, Aveyond, Grimm's Hatchery just to name a few. I hope to find many more and post them here so that others can find them and enjoy these games that we've been missing out on.